Tell It Like It Is: A Guide to Clear and Honest Writing
America's favorite writing coach returns with a guide to writing clearly and honestly in a world full of lies, propaganda, and misinformation.
The darker and more dystopian the future appears, the more influential public writers become. But with so much content vying for our attention, and so much misinformation and propaganda polluting public discourse, how can writers break through the noise to inform an increasingly busy, stressed, and overwhelmed audience?
In Tell It Like It Is, bestselling author, writing coach, and teacher Roy Peter Clark offers a succinct and practical guide to writing with clarity, honesty, and conviction. By analyzing stellar writing samples from a diverse collection of public writers, Clark highlights and explains the tools journalists, scientists, economists, fact-checkers, even storytellers use to engage, inform, and hook readers, and how best to deploy them in a variety of contexts. In doing so, he provides answers to some of the most pressing questions facing writers today:
How do I make hard facts—about pandemics, wars, natural disasters, social justice—easy reading?
How do I get readers to pay attention to what they need to know?
How do I help contribute to a culture of writing that combats misinformation and propaganda?
How do I instill hope into the hearts and minds of readers?
With Clark's trademark wit, insight, and compassion, Tell It Like It Is offers a uniquely practical and engaging guide to public writing in unprecedented times—and an urgently needed remedy for a dangerously confused world.
Roy's Other Books
Journalism:  The Democratic Craft.  With G. Stuart Adam.  New York:  Oxford University Press, 2006.  An annotated anthology of more than 40 seminal essays on journalism and democracy, focusing on news judgment, the gathering of evidence, the appropriate use of language and narrative strategies, and the importance of critical thinking and interpretation.
Coaching Writers: Editors and Reporters Working Together across Media Platforms.  With Don Fry. Boston / New York: Bedford / St. Martin's, 2003.  Perhaps the first book to take editing beyond the technical aspects of craft to include the human element.  Editors may have to fix broken stories, but more important is the mission of encouraging aspiring writers.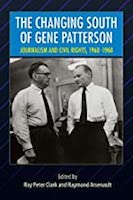 The Changing South of Gene Patterson:  Journalism and Civil Rights, 1960 – 1968.  With Raymond Arsenault.  Gainesville: University Press of Florida, 2002. (New edition due in 2020.)  For eight years during the civil rights movement, Gene Patterson wrote a signed column for the Atlanta Constitution every single day.  This collection reveals what happens when a master writer – with moral and physical courage – attaches himself to a noble cause.
​America's Best Newspaper Writing(second edition).  With Christopher Scanlan.  New York: Bedford / St. Martin's, 2006. Since 1979 the Poynter Institute has helped the American Society of Newspaper Editors conduct their Distinguished Writing Awards.  This is a collection of the best work over three decades, with accompanying essays and commentary.
Free to Write:  A Journalist Teaches Young Writers. Portsmouth, N.H.: Heinemann Educational Books, 1987.  In the early 1980s, I spent many days as a volunteer writing teacher in Florida public schools.  For 29 consecutive summers I conducted writing camps for students and teachers. This book describes what I learned.
Description
Murder Your Darlings: And Other Gentle Writing Advice from Aristotle to Zinsser. New York: Little, Brown, 2020. This is a writing book about writing books. From a personal collection of more than one thousand books, I select fifty that have influenced my work as a writer and teacher in special ways. Harvesting books from ancient to modern times – from Aristotle to Zinsser – I distill more than 100 writing strategies you can add to your collection.
Description
The Art of X-Ray Reading: How the Secrets of 25 Great Works of Literature Will Improve Your Writing.  New York:  Little, Brown, 2016.  This book explores how writers read.  Revisiting great works of literature – from Chaucer to Toni Morrison – I examine powerful texts with a kind of X-ray vision, looking down into the master texts to see and share the strategies that created them.
Description
How to Write Short: Word Craft for Fast Times.  New York: Little, Brown, 2013.  With writers of the digital age in mind, this book looks back on the enduring power of short writing from the beginning of written texts. Looking at both the craft and purposes of short writing – the how and the why – I offer hundreds of examples of the best short writing, from sonnets, proverbs, aphorisms, marginalia, and song lyrics to blog posts, text messages, and tweets.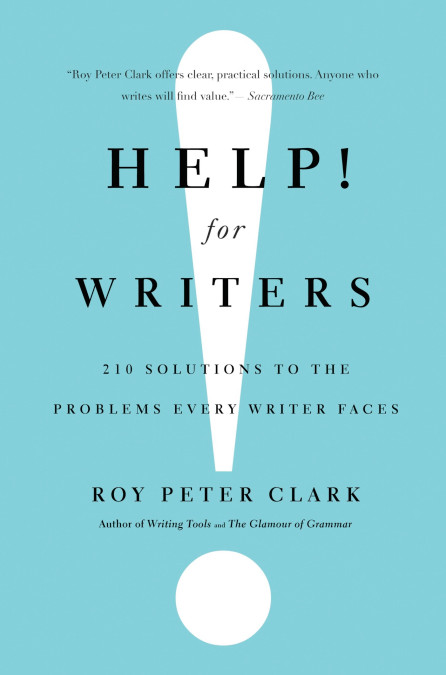 Description
Help! For Writers: 210 Solutions to the Problems Every Writer Faces.  New York: Little, Brown, 2011. Based upon the theory that most writers follow a similar process and face the same challenges, this book sets out seven steps of the writing process, three problems for taking each step, and ten practical solutions for each problem.  210 in all.  I describe the steps as getting started, getting your act together, finding focus, looking for language, building a draft, assessing your progress, an making it better.  A final word concerns "keeping the faith."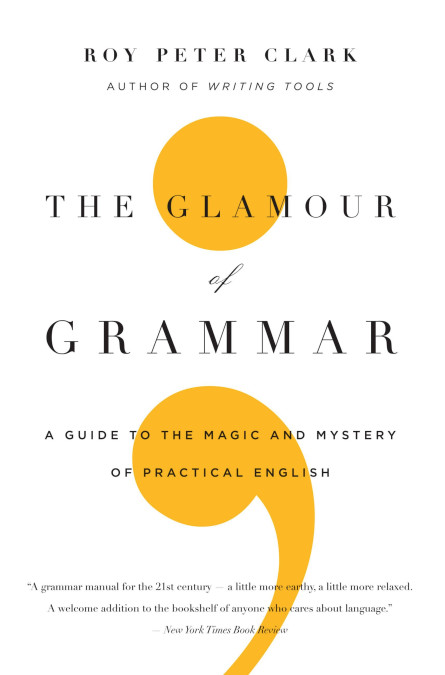 Description
The Glamour of Grammar: A Guide to the Magic and Mystery of Practical English.  New York: Little, Brown, 2010.  Fifty chapters on aspects of rhetorical grammar, that is, using technical aspects of language to make meaning in powerful ways. Sections include words, punctuation, standards, meaning, and purpose.  The New York Times dubbed it "a grammar manual for the twenty-first century."
Description
Writing Tools:  55 Essential Strategies for Every Writer. New York:  Little, Brown, 2006.  The first of six books I wrote for Little, Brown, all edited by Tracy Behar. A tenth-anniversary edition, published in 2016, adds five writing strategies to the original fifty.  More than 250,000 copies in print in several formats.  It has been translated into eight languages, including Mandarin and Arabic.  It offers practical writing wisdom, from nuts and bolts to special effects to blueprints to useful habits.